More Value.
More Vision.
More than a Vendor.
We differentiate ourselves by adding maximum value at each phase of the customer experience. It begins with candid, open lines of communication, a problem-solving attitude, and a flexible approach.
How can Distron help you?
"Whenever I need something, they just make it happen. That's why I call Distron a partner, not a vendor."

DIRECTOR OF OPERATIONS
LED PRODUCTS
" I don't even look for other vendors. I just go to Distron."

MANAGER OF ELECTRICAL ENGINEERING
MEDICAL DEVICES
" We can meet with anyone – the VPs, Sales, Engineering. They make all of their people available. You don't always see that."

SOURCING MANAGER
MARINE PRODUCTS
"Distron always responds—on time and with the right solution."

SVP, OPERATIONS
ELECTRO-HYDRAULIC ACTUATORS
Expanded Manufacturing Capacity & Capabilities
Now have a total of 50,000 sq. ft.
Larger SMT output area
Newly added electro-mechanical/box-build assembly space
SMT production output is over 100K placements per hour over 4 SMT lines
Quality Certifications & Policies
Distron's staff is highly trained to handle and manufacture RoHS compliant products using dedicated capital equipment and work areas.
We are fully compliant with the EC Directive on Restriction and Use of Hazardous Substances.
Design for Manufacturability (DFM) General Guidelines
Download the general guidelines for design engineers to review, prior to releasing a new design to Distron.
Electronics & Electromechanical Manufacturing Careers
We currently have open positions and are hiring. Please click the button to see open positions.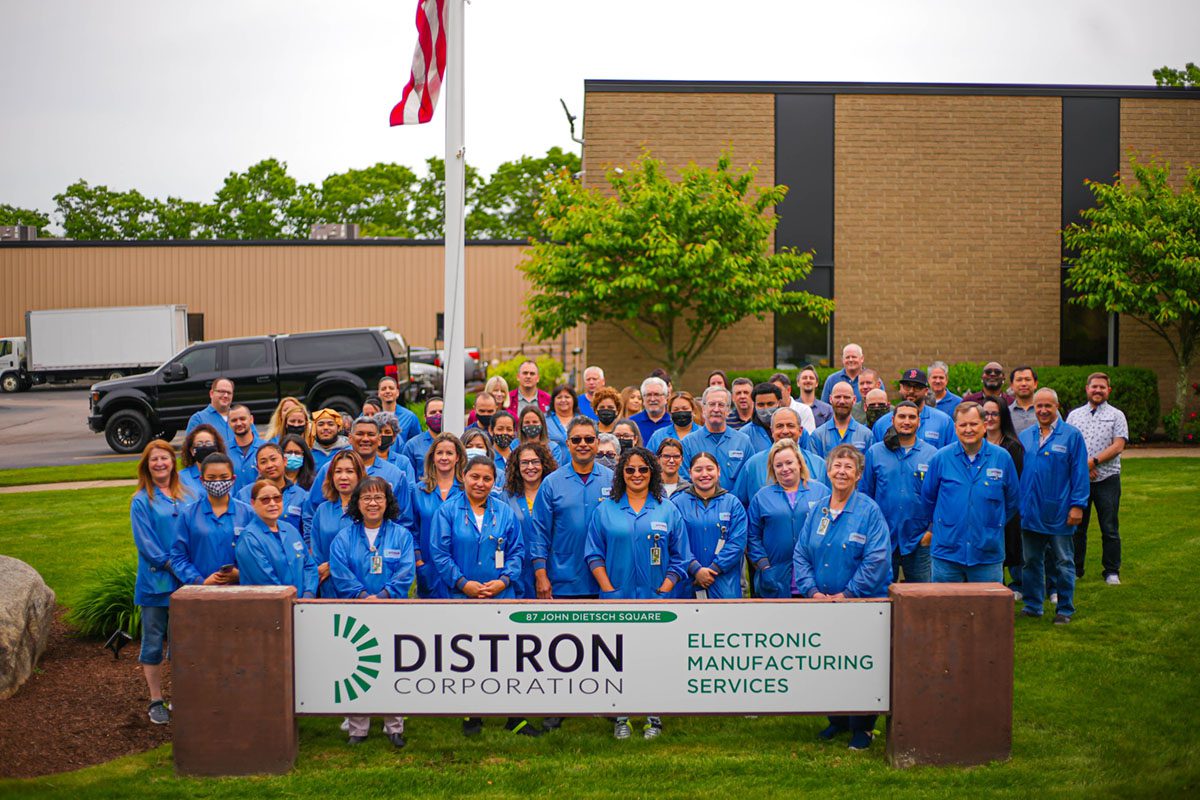 About Distron
When it comes to partnering with an electronic contract manufacturing company, there are a few qualities you look for: most importantly, precision, reliability, cost-effectiveness, and experience. When it comes to these aspects of manufacturing, Distron has been ahead of the curve for a long time – dating back to 1970, when we set up shop for the first time.
Back then, Distron was one of New England's first contract manufacturers. In the years since, as so many other manufacturing companies have come and gone, Distron has surged upward, as a steady presence in the manufacturing world. As the decades have gone by, Distron's relationships with the companies we serve have only deepened, and our capacity, knowledge, and abilities have grown by leaps and bounds.
Today, we have become the one-stop shop for all your electronic contract manufacturing needs, from surface mount assemblies, to inspection and testing, to product warehousing and fulfillment. We serve industries from the military to the medical industry, to clean tech, lighting, and more. Distron is a local company, a partner, and will meet – and anticipate – your every need, from prototype to delivery. As the present meets the future, Distron is here to stay, and we will continue to deliver high quality products backed by 50+ years of experience.
Operations
Manex ERP System
Aegis Factory Logix CAM/MES Software System
Lead-Free Manufacturing
EPA and DEP Process Compliant
Process FMEA (PFMEA)
ISO 9001 Certified
ISO 13485 Certified
Vendor In-Stores Inventory Programs
Barcode Tracking System for Traceability
Environmentally Controlled SMT Process
IPC Certified Employees
IPC Certified On-site Trainers (2)
Mycronic Line Control Software including MyPlan, MyCenter & MyLine
J-STD-001 Certified On-Site Trainer
Assembly Equipment
SMT Placement Equipment
Mycronic MYPro series MY300DX w/ Dual Hydra Heads with T6 large board handling conveyor
Mycronic MY200DX w/ Dual Hydra Heads
Mycronic MY100 DX SMT w/Dual Hydra Heads
Paste Printing
Mycronic Jet Printer MY700 JX
DEK Horizon Fully Automatic In-Line Screen Printer w/ 2D Inspection
DEK Horizon 03iX Printing Machine 
VI technology Primo Solder Paste Inspection System
Automated Inspection Equipment
YESTech FX-940 Ultra 3D AOI
YESTech AOI System FX (3)
DAGE Ruby X-ray w/ X-Plane Technology
Cleaning
AKS Chemical and DI Water In-Line
Gensonic Stencil Cleaner
Mechanical Assembly
Series LT/4 PEMSERTER Press
PVA 650 Automated Conformal Coating Syste
Eubanks Automatic Wire Cutting /Stripping
Molex TM40 Termination Equipment
Test and Inspection Equipment
Functional Test Development Capability
Jet-300 MDA System w/HP Testjet Technology
Seica Pilot Flying Probe Machine
Tenney TPS Thermal Cycling Chamber (1)
Tenney Environmental Chambers (2)
Thermatron Temperature Test Chambers (2)
Walk-in Burn-in Room
Hipotronics HD Series 100 Hi-Pot Tester